Clearwater businesses in search of skilled and knowledgeable Network Installation professionals in Clearwater for wiring, cabling, and networking services, need look no further than A+ Cable Runners. Here you will the find knowledgeable specialists to help with network installation, computer network cabling, IT services, security camera installation, and even home theater installation services.
Network Cabling Clearwater
Network installation for mid-to-large size businesses can be a complex process. When contacting network installation professionals, have the following information accessible: your current bandwidth needs, your network environment, your expected bandwidth requirements, and your budget. In additional to this information, our Clearwater network installation technicians may as the following questions:
Are you relocating? If so, when is the move?

How many voice and data drops will be needed?

What type of construction is the location? In other words, does the building have drop ceilings or hard cap ceilings? This helps the installation professional determine whether the network will need plenum or non-plenum wiring.

Is there an existing phone system? Or will you be moving an existing phone system?
Not only will our network installation professionals in Clearwater help ensure you get the fastest Internet speeds, but also a fluid, streamlined network for your business to function seamlessly.
Computer Network Cabling Clearwater
Our computer network cabling professionals offer the following services:
Data Network Cabling Installation

Structured Cabling Designed and Implementation

Fiber Optic Installation

10 Gigabit Ethernet

POS cabling

VoIP Wiring

And much more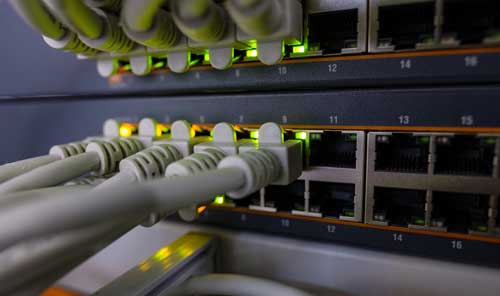 In order for our Clearwater computer network cabling professionals to provide you with the best possible service, the type of cable needed for the job must be determined. The type of cable depends largely on the size of your network, your need to reduce crosstalk, and also the required bandwidth.
For most computer network cabling Clearwater jobs, Cat5e cables are used. Cat5e cables have added specifications to handle crosstalk, and support up to gigabit Ethernet, or networks running at 1000 Mbps.
IT Services Clearwater
When utilizing all that our IT services professionals have to offer, you will be able to make sure you are maximizing the potential of the networking components in place. IT professionals can also be a valuable resource if and when you considering moving or expanding your current network. By consulting our professionals who provide Clearwater IT services, you could receive valuable suggestions that could save you money and time in the long run.
Security Camera Installation Clearwater
Regardless of the size of your business, security is always a top concern. With security camera installation, you can have a security system installed enabling you to keep an eye on key locations at all times. We recommend that our Clearwater security camera installation professionals install the system to ensure it functions properly.
Home theater installation Clearwater
A+ Cable Runners is also your company for home theater installation multimedia needs. While home theater installation may not be as complex as the network installation for a large business, it can still be tricky. By hiring our professional to handle your Clearwater home theater installation, you can rest assured that your home multimedia experience will run seamlessly when it is done.